The Music Room
The Music Room is an impressive suite, complete with an outstanding feature fireplace, minstrel gallery and high ceiling. All combining to create a magical and memorable occasion for you and your guests. Ideal for larger gatherings the Music Room is the most popular suite for parties or a fine dining experience. The use of the dance floor or the Grand Piano allows each party to tailor the Music Room to their own needs.
CAPACITY
Buffet: 120 | Seated: 88 | Dinner Dance: 60
PLEASE NOTE: The Music Room is on the first floor and is not serviced by a lift.
The main house restrooms are also on this level.
---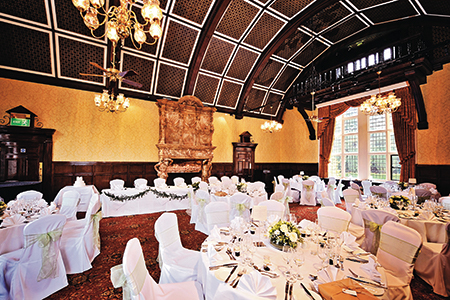 For Menus and More Information
Click Here to See Private Dining
Allergies and Special Diet Requirements
We are aware that your guests may have dietary requirements and/or be allergic to certain foods. At the hotel we treat both dietary requirements and allergens with a high level of importance. It is down to the client to inform us of any allergens or dietary requirements in good time prior to the event so that we can make adequate preparations to deal with these needs. If we believe that the request (or requests) made in relation to this are such that we feel we cannot deal with this competently, we reserve the right to refuse the requests or restrict requests to a level that we can deal with effectively.
Booking Enquiries – Call: 0208 385 3100
Booking Enquiries
---
Call: 0208 385 3103
For out of office hours please call the main hotel switchboard on 0208 385 3100