Rosa D'Erina, was an Irish soprano who appeared in a few of W.S. Gilbert's pieces. Born Rose Anna O'Toole on 22nd February 1848, in Armagh, Ireland, she became known as the prima donna of Erin.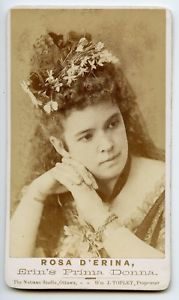 Trained in Paris, D'Erina she was known as Rose of Erin, whilst in her homeland of Ireland, she was always referred to as Rose of the Songs. By the age of 12 she had already become the organist at the Cathedral of Armagh, and she went on to continue dedicating her life to both the church and her beloved Irish music. 
As a newcomer Rosa D'Erina, made her debut playing the role of Miss Annabella Penrose, an heiress and niece of Mrs Pennythorne in W.S. Gilbert's musical piece in one act, 'No Cards' in 1869.  It was the first of Gilbert's six pieces for the Royal Gallery of Illustration, an intimate venue under the management of Thomas and Pricilla German Reed. Thomas German Reed also composed and arranged the music for this play. The play was favourably reviewed in The Times, who singled out D'Erina's singing of the Irish ballad, 'Thady O'Flinn', along with the fact she accompanied herself on the pianoforte. 
By 1870 though, D'Erina had emigrated to the United States, although she continued with her singing career. After her emigration she appeared in Ottawa, as well as touring around Europe in 1874. She also returned to one of her early loves, as she became the organist at the Church of the Holy Innocents, in New York City, where she then met George R. Vontrom, Vicomte de Ste Croix. Vontrom was born in the Isle of Jersey and was a New York City Professor at the St Louis College. He came from a prominent French family, gaining his title from his grandfather. They married in May 1884.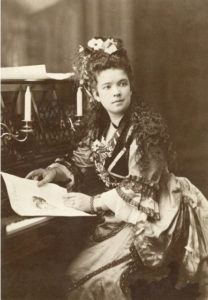 D'Erina continued touring and singing, after getting married, touring both the United States, Australia and Canada with her husband. Vontrom would not only accompany her on these tours, he'd also assist her during her various recitals and concerts.  
The couple both shared a love for the church, often putting on recitals and concerts to help raise funds for the Catholic church. They also bought a summer cottage on St. Joseph Island, Ontario, Canada. Whilst there, they continued to show their dedication to the Catholic faith, as they were instrumental in establishing the St. Boniface Catholic Church here. 
D'Erina died on 13th April 1915 and was buried in Saint Boniface Catholic Cemetery, Ontario, Canada – the church she helped establish. 
Photo Credit: FineArt America