Sir William and Lady Lucy Gilbert never had children of their own however they took a shine to Sir William's latest (and last) protégée, Nancy McIntosh. Nancy became their unofficially adopted daughter, living with them at Grim's Dyke until Lady Gilbert's death in 1936.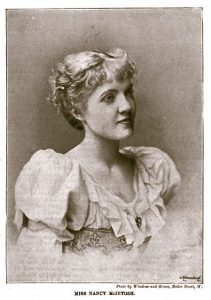 Nancy McIntosh was born in Cleveland, Ohio in 1866. Her career as a concert singer began with her debut on 3rd March 1887 in Harrisburg, Pennsylvania. She then went on to appear in a series of concerts with William H. Sherwod, in Boston, Massachusetts, before travelling to London with her father, in 1890 – where she studied voice under George Henschel.
McIntosh first met W.S. Gilbert at a dinner party hosted by Henschel, in the Spring of 1893. Gilbert wanted her to audition for the stage, something she was equally eager to pursue however Arthur Sullivan refused to audition her privately, despite Gilbert's pleading. On the next audition day (30th June 1893), McIntosh auditioned at the Savoy Theatre. Sullivan remained disappointed by her 'disappointing voice' – something he and Gilbert would forever remain at odds about. Unfortunately, after her performance of Princess Zara in 'Utopia, Limited', commentators agreed she wasn't a great actress either – and Sullivan refused to write another piece in which she was to take part.
A few years later, after retiring from the theatre, McIntosh went to live with W.S. and Lady Gilbert at Grim's Dyke. She assisted as a hostess wrote several articles about the Gilberts' many and exotic pets. McIntosh was an expert horsewoman and proficient in shooting, fencing, baseball, cricket, swimming and diving, but she had a love of animals that matched Sir and Lady Gilbert. Nancy also shared an interest in photography and was often seen photographing the many dinner party guests that visited Grim's Dyke.
Nancy stayed at Grim's Dyke after Sir W.S. Gilbert's death, first comforting Lady Gilbert and then subsequently mourning her passing too, in 1936. After Lady Gilbert's death, she subsequently inherited W.S. Gilbert's estate, including the Garrick Theatre. She also took over Lady Gilbert's position as Vice President of the Gilbert & Sullivan Society in London, using this to help preserve W.S. Gilbert's legacy by selling his papers to the British Museum.
Upon Nancy's death in 1954, following her bequest, the remainder of the estate was left to the Royal General Theatrical Fund. Nancy's ashes were also buried with those of W.S. Gilbert and Lady Gilbert, in the churchyard of St. John the Evangelist, in Stanmore.