Following on from the infamous 'carpet quarrel', Gilbert and Sullivan had gone their separate ways. However, Carte and his wife worked unsuccessfully, to reconcile the pair. In 1891. Tom Chappell stepped in to mediate and, two weeks later, they reconciled. This resulted in two more operas – Utopia, Limited being one of them.
Production on Utopia, Limited
Work didn't immediately start, once the pair had reconciled. There were lengthy discussions between them, over the financial arrangements of a new opera – and they didn't reach agreement until November 1892. Gilbert read the original plot outline to Sullivan on 27th January 1893, and the libretto was finished by July. Costumes were designed by Percy Anderson, whist the sets were designed by Hawes Craven – the designer for Henry Irving's Lyceum Theatre Shakespeare productions. In total, an unprecedented £7,200 was spent on scenery, properties and costumes – making it the most expensive of all the Savoy Operas.
The introduction of Nancy McIntosh
Gilbert insisted on casting his protegee, Nancy McIntosh, as Princess Zara. Unfortunately it was to be her only part with the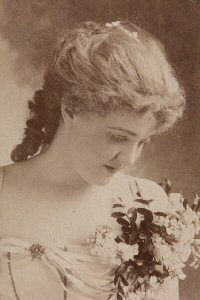 D'Oyly Carte Opera Company, as Sullivan refused to write another piece if she was to take part in it. However, Gilbert and his wife Lucy, had formed an affection for her and she subsequently become an unofficial adopted daughter to the pair, moving to Grim's Dyke to live with them.
Opening night success
Although the first-night reception was enthusiastic, Utopia, Limited was a moderate success. It received mixed reviews from the critics – with 'Punch' being generally hostile over the play and Gilbert's work, whilst 'The Standard' thought it was their best work to date. It premiered on the 7th October 1893, running for a total of 245 performances. This is one of the shortest runs for their collaborations in the 1880's, it was the longest run at the Savoy in the 1890's.
Subsequent cuts and confusion
Maybe an indication that all was still not well between Gilbert and Sullivan, the cuts to the opera were a curious decision. With Gilbert expanding the role to accommodate his new protegee, some saw the script as unbalanced. Pre-production cuts left plots unresolved and one of the soprano's arias, that had the most enthusiastic reviews from the press, was cut after opening night. Sullivan also refused to set one of Gilbert's scenes for Nancy McIntosh, leaving another subplot unresolved.
The future of Utopia, Limited
Utopia, Unlimited isn't performed very often. This could be down to the large cast needed, along with the amount of costumes required (each performer needs two). However, the subject matter and obscure government offices it refers to, are the most cited reasons. It wasn't revived by the D'Oyly Carte Opera Company until 4 April 1975 – when it was so oversubscribed, they had to arrange a further four performances!