Sir Edward Seymour Hick, better known as Seymour Hicks, was an actor, performer, playwright, screenwriter, actor-manager and producer – and frequent visitor to Grim's Dyke.
Both Hicks and his wife were friends of W.S. Gilbert and his wife, Lady Lucy, making them frequent visitors to Grim's Dyke. Ironically, hicks first taste of acting was in a school play when, at the tender age of 9, he played the part of Buttercup in Gilbert and Sullivan's H.M.S. Pinafore. It was this experience that led him on a quest to become an actor. It took another 7 years before he appeared professionally on stage.
Ellaline Terris
Hicks met his actress wife, Ellaline Terriss in 1893 – the year he starred as Dr Watson in the first revue show ever staged in London. Entitled 'Under The Clock', it was a contemporary play written by the stars: Hicks (who played Watson) and Charles Brookfield (who played Holmes).  Hicks then went on to star in the revival of 'Little Jack Sheppard' at the Gaiety Theatre, London, before joining his wife in Henry Irving's 'Cinderella'. He then starred in 'The Shop Girl' in 1894. This was an instant hit for the Gaiety Theatre, running for a total of 546 performances – made even more successful when Hick's wife took over the lead role.
The young couple both came from a comedy background and often starred alongside each other. Sharing witty banter and acting the part of light-hearted characters, they made each part their own – and this particularly shone through, when they acted together in the 1896 play 'The Circus Girl'. 
The famous couple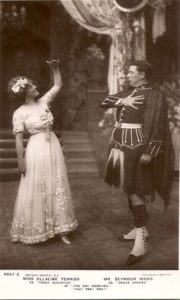 The Hickses toured America together in 1895, played in their only Broadway show (My Daughter-in-law), at the Old Lyceum Theatre, New York, before joining forces with producer Charles Frohman and his company for seven years. During this time, they played lead in a series of plays written by Hicks, including a Christmas show for children, entitled 'Bluebell in Fairyland' (1901) and 'The Cherry Girl'
The Hickses had two children – they adopted their first daughter, Mabel in 1889, before Terriss became pregnant in 1904 with their second child, Betty. They moved to the Old Forge at Merstham, Surrey in 1902 and the cul-de-sac was renamed "Quality Street", after the play Terriss starred in, that same year.
Legacy
Hicks used some of the money he'd amassed from the success of his joint works with Frohman, to buy Aldwych Theatre in 1905, the Hicks Theatre in 1906 (which was renamed the Globe Theatre in 1909) and The Gielgud Theatre in 1994.
After the outbreak of World War I in 1914, Hicks was the first British actor to bring a tour to France, where he and his wife gave concerts to the British troops at the front. He was awarded the French Croix de Guerre. In 1931, Hicks was also awarded the Legion of Honour, for his promotion of French drama on the English stage.
Giving an unknown director his big break
Hicks also appeared in three early silent films, before deciding in 1923 to produce his own. Whilst making his first film, 'Always Tell Your Wife', a film based on one of his plays, he fired the director and hired an unknown one to take his place – Alfred Hitchcock! Hick's most famous role was that of Ebenezer Scrooge in Charles Dicken's 'A Christmas Carol'. He played it thousands of times on stage and twice on film.
In 1934 Hicks received his knighthood. He continued to appear, both on stage and in films, until his death on 6th April 1949. He was 78.