Both Sir W.S. Gilbert and his wife Lucy, were actively involved in local affairs and Bushey Heath Cottage Hospital was one of the benefactors. Sir William was Honorary Secretary there and would hold charity performances to raise funds for it. Lady Gilbert, would arrange Christmas entertainment and parties, usually involving conjurors, magic, tea and sandwiches.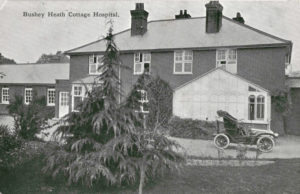 The Bushey Heath Cottage Hospital was a general hospital and was officially opened in 1898. It comprised of two wards – one for men and the other, for women and children. In all, there were 20 beds in this purpose-built hospital and it was funded by Miss Collins-Splat and Gilbert was the Honorary Secretary, living just down the road from it.  
As a voluntary general hospital, it provided a range of medical and surgical care, including dental surgery. However, it didn't take patients that were suffering from mental disorders or advanced lung conditions, and admitted no one that had an infectious disease.  
Electricity wasn't installed for another 28 years later – in 1926. It cost a grand total of £400 and was followed, later that year, by a wireless radio. A year later, the word 'Cottage' was dropped from the hospital name. 
In 1936 the hospital was finally extended, to meet growing need. Work on the third wing extension started with Mrs Nimmo, of Sparrows Herne Hall, laying the foundation stone. The extension opened later that year and increased the bed capacity to total of 34. It also contained 4 private wards, an x-ray department and a new entrance hall.  
1948 saw another year of change – the hospital joined the NHS. This saw it go into battle with the Peace Memorial Hospital in Watford. Both wanted to keep the 'general' status – Bushey Heath finally won the right to keep theirs, in 1950. 
D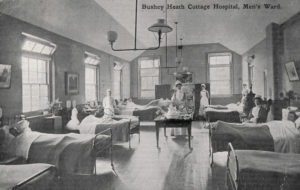 uring the 70s and 80s Bushey Heath saw a plethora of policy changes, resulting in various closes – including the operating theatre. It became a 26-bed, Care Centre hospital for geriatric patients needing respite and/or terminal care. 
In 1990 the original hospital was demolished. This was due to a new Day Unit being opened and a proposed plan to develop four new Community Care Centres – one at the Bushey Heath site.  
The Bushey Heath Cottage Hospital held a special place in W.S. Gilbert's heart. His will bequeathed his wife, Lucy, along with Nancy, his possessions, including a bronze statuette of himself, by Andrea Lucchesi. Upon Lucy's death, the statuette would be passed onto Cara Pillans, matron of the Bushey Heath Cottage Hospital, along with £200.