The Gilbert & Sullivan collaboration ran from 1871-1896. The duo produced a total of 14 Savoy Operas, but the relationship had reached breaking point, leading them to part company.
W.S. Gilbert
In the years that followed, Gilbert continued to write, even after he'd announced his retirement from the theatre. Gilbert's first solo play was in 1897. Entitled 'The Fortune Hunter', it unfortunately received less than favourable reviews. This didn't deter him though, as he went on to write 3 more plays, over the next 12 years – one of which (Fallen Fairies) was a collaboration with Edward German – but again, this wasn't very successful.
Gilbert also continued to oversee the revivals of his works by the D'Oyly Carte Company. However, it was his last play, written just four months before his death, 'The Hooligan,' that became one of his most successful serious operas.
His last great achievement
Before his death on 29th May 1911, Gilbert's other achievements included children's book versions of both the Mikado and H.M.S. Pinafore and finally being knighted for his contributions to music in 1907 – the first British writer to be knighted solely for his plays alone – and almost a quarter century after Sullivan was knighted for his contributions to music.
Arthur Sullivan
In May 1897 Sullivan Sullivan's full-length ballet, 'Victoria and Merrie England' opened in London. The ballet, produced to celebrate the Queen's Silver Jubilee, was considered a great success. Unfortunately, his opera collaboration the following year, with a libretto by Arthur Wing Pinero and J. Comyns Carr, 'The Beauty Stone', wasn't.
Sullivan and Kipling's unprecedented sensation
In 1899 Sullivan composed music to Rudyard Kipling's poem, 'The Absent-Minded Beggar'. Sullivan put aside the opera he was working on (The Rose of Persia) and took only four days to create the music, but it wasn't easy for him. He found Kipling's verses difficult to set and wouldn't have taken the task on, if it wasn't for such a good cause.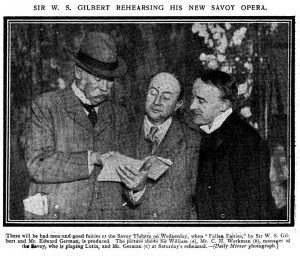 The song was in response to the Daily Mail appeal to raise money for the soldiers of the Boer War and their families. The patriotic song was an instant sensation – and raised an unprecedented sum of over £250,000 for the fund. Both Sullivan and Kipling turned down their proffered fees for creating the song and Kipling also turned down a knighthood, that was offered to him shortly after.
His most successful opera
Sullivan completed 'The Rose of Persia' and it premiered on the 29th November 1899. It proved to be his most successful opera, aside from those produced with W.S. Gilbert.
Just under a year later, Sullivan died of heart failure, following an attack of bronchitis, on 22nd November 1900.
A lasting legacy – Gilbert & Sullivan
Together and individually, both Gilbert and Sullivan created a legacy for future theatre productions. Their genius spread beyond the theatre world too – with lines and quotations from their operas becoming part of the English language. By the time of Sullivan's death, the pair had, according to Gilbert, bridged the rift and 'cordial relations now existed between them' – with Gilbert paying the highest compliment to his one-time partner: 'Sullivan was a composer of the rarest genius… I remember all he has done for me in allowing his genius to shed some of its lustre upon my humble name.'
Photo Credit: Wikipedia