The Grim's Dyke Hotel is delighted to bring you the annual Harrow Whisky Festival. The 2016 festival was an immense success and 2017 promises to be even better – with 50% more exhibitors, additional exhibitor space and many of your favourites – so make sure you snap up your ticket early, before the festival inevitably sells out!
The Harrow Whisky Festival gives the whisky connoisseur the opportunity to taste Whiskies from the six Scottish whisky regions, Ireland, Orkney and Islay, as well as further afield. Our whisky scouts are currently busy visiting interesting distilleries, near and far, in an effort to make this year's festival an even bigger success.
But it's not just an opportunity to taste the whiskies, there's also the opportunity to listen to various whisky-related talks, experience our four-course Distiller banquet and purchase whisky from The Whisky Exchange. The Whisky Exchange will primarily be offering Whisky and spirits from the festival, however they also have an online range consisting of a staggering 4,000 whiskies – you'll find information about their online site via the Harrow Whisky Festival website (listed below).
Tasting sessions are priced from £14.50 and are available on Friday afternoon, Saturday at noon and Saturday early evening, so there's plenty of opportunity to find a session that suits your schedule.
Our Friday evening Distiller Banquet gives you the ideal opportunity to experience a tasting session, followed by a fabulous four-course meal, before tasting more whisky and interaction with the various whisky experts. This Friday evening event is priced at £37.00.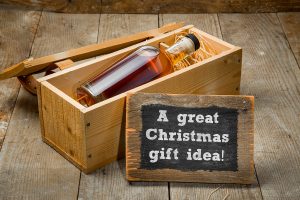 If you'd like to take advantage of the accommodation at Grim's Dyke, why not treat yourself (or a loved one) to one of our limited Dream Tickets? These tickets are available for Friday or Saturday night and include one night's accommodation, full English or Scottish breakfast, the Distiller Banquet (if booking for Friday night) or our legendary Cream Tea (for those staying on Saturday night). You also get priority seating for the talks, along with early admission to the Saturday session, a souvenir festival booklet and a chance to try on a kilt!
It's also worth remembering that the Harrow Whisky Festival isn't just for the Whisky lover – there's also going to be various Gins and Vodka available too!
The Harrow Whisky Festival is held at the Grim's Dyke Hotel on the 13th – 14th January 2017. You can find further information on the festival, accommodation and The Whisky Exchange, along with details of the special 'Black Tokens', over on the Harrow Whisky Festival website: http://www.harrowwhiskyfestival.com/