The National Portrait Gallery currently has 13 portraits associated to Sir William Schwenck Gilbert.  What's interesting about all of Gilbert's portraits is how they all show him as a natural sitter. His relaxed stance is evident in all of those later years portraits and he seems to be equally at home in front of a painter or a camera.
Harry Furniss
Caricaturist Harry Furniss' 1880s-1900s pen and ink drawings of Gilbert (of which there are three on display), were drawn as part of his 'Prominent Men' collection. The collection itself comprises of 266 drawings and all show his hallmark style – he had a talent for showing energy, vitality and movement in his work. It is said that his caricatures were of superior style to his more 'serious' illustrative works.
Irish born Furniss gained experience as a draughtsman, before joining Punch magazine as an illustrator. He became known for his political caricatures over the next ten years, before turning his hand to writing his owns series of self-illustrated autobiographical books. In later life Furniss became a public lecturer, using lantern slides of his own work to illustrate his points.
Francis Montague ('Frank') Holl
The only oil on canva painting of Gilbert in the National Portrait Gallery, was painted by Frank Holl in 1886. It shows Gilbert in hunting dress and is of a more sombre look than Furniss' illustrations. Gilbert was obliged to ride for two hours every day, to alleviate his gout – which may be why this portrait of him looks so sombre!
Frank Holl was the son of Francis Holl. He entered the Royal Academy schools when he was fifteen, and he went on to win silver and gold medals for his work. He went on to regularly exhibit work at the Royal Academy, until his death in 1888.
All bar one of the 13 portraits on show at the National Portrait Gallery, were taken later in Gilbert's life. These mainly consist of bromide and carbon prints, a chromolithograph, a half-plate negative and whole-plate glass copy negative.
Classical Comedy
However, it's the remaining lithograph, taken by an unknown artist and published by Frederick Arnold in the Hornet (a British boys comic), that's of interest.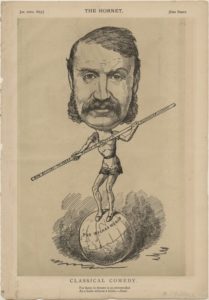 Published on 22nd January 1873, this illustration shows Gilbert in his early 30s – and at the early stages of his librettist career. It shows Gilbert smiling slightly as he balances on the 'wicked world', whilst holding a balancing stick inscribed with the words 'Bab Ballads – princess', 'palace of truth' and 'Pygmalion'. The illustration is entitled 'Classical Comedy' and in hindsight, sums up Gilbert and his life perfectly!