Curios, otherwise known as knick-knacks, trinkets and ornaments are one of those household things that you either love or hate – and it seems, that the Victorian had rather a passion for them!
The Victorian love of Curios
The Victorians loved to collect curios and display them around the house – many even had a curio cabinet, full of the bizarre and unusual objects they'd amassed over their lifetime. These curio cabinets were display cabinets consisting of a wooden or metal frame, with glass sides and shelves. They often had a mirror at the back too, to allow for maximum visibility of the contents inside. Unlike display cabinets used to display products for sale, curio cabinets were vertical and did not have felt-lined shelves. Often, cabinets would home several curios, related to a similar theme, or a solo curio – that one unique or expensive item the owner valued most – as these cabinets where designed to both show off a curio collection, as well as protect them from dust, vermin and of course, theft.
What was collected?
Those who had money at their disposal tended to opt for a variety of options. Some would opt for high end collectable pieces, crafted by the old masters, whilst others would search for lost Anglo-Saxon objects. W.S. Gilbert however, like other well-to-do Victorians, preferred collecting curios from his various travels, both in this country and abroad.
Gilbert's collections
The Drawing Room and Library at Grim's Dyke were testament to Gilbert's love of curios and unusual pieces, large and small. Luckily, an illustrated interview for The Strand Magazine (dated October 1891) preserves the memory of what those rooms looked like.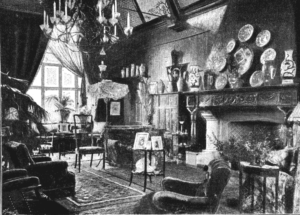 The Drawing Room had innumerable curios, paintings and china. Victorian curio hunters often had a glass cabinet in which to house their valuable curios, and Gilbert had one in the Drawing Room. It contained, amongst other things, a pair of marble hands, modelled by an 8-year-old Mrs Crutchley and a 15th Century ivory tankard – used as a theatre prop in 'Comedy and Tragedy' by Miss Julia Neilson – and broken on its first appearance, due to her over-enthusiastic acting.
The Dining Library was home to several tall, white enamel bookcases. Not only were they home to some 4,000 compact books, the top of them were home to another set of unusual curios collected by Gilbert – paper-mâché heads! There were approximately 70 heads displayed, all bought home by Gilbert, from India. Gilbert liked the idea that, if he ever wrote an opera based in India, he'd be able to accurately portray an Indian face.
The role of curio hunter was one the Victorians relished – and it's a role that many of us still enjoy today. Having rare, unusual and downright bizarre items to display and show off to our friends, not only makes an enjoyable pastime, it enables us to fire up the imagination and creativity – something I'm sure W.S. Gilbert would attest to as well!