Caesar van Everdingen (1617-1678), also known as Caesar Pietersz was a 17th Century Dutch painter. He was a Baroque artist, focusing primarily on portrait and history, and was also known to be one of the painters from the period known as the Dutch Golden Age.
W.S. Gilbert the Art Collector
W.S. Gilbert loved collecting curios and art – one of which was an oil painting by Caesar Van Everdingen. At that time, it was understood that Gilbert's Everdingen painting was one of only two of Everdingen's works in England. The other was displayed in the mess room of the Honourable Artillery Company in London – the oldest regiment in the British Army.
Caesar van Everdingen
Everdingen was born in Alkmaar, Netherlands, in 1617 and was the older brother of painter Allart van Everdingen. He studied painting in Utrecht, and became a member of the painters' guild in Alkmaar in 1632. His earliest known paintings are portraits of his parents, dating back to 1636. In 1648, he moved to the Dutch city of Haarlem, where he joined the voluntary city guard (known as the Schutterij) and it was here, that he met the Dutch artist and architect Jacob van Campen.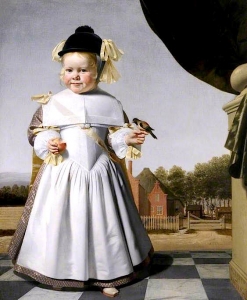 For the next two years, he helped Campen paint the Orange Room (Oranje Zaal) at one of the Royal Palaces – Haus ten Bosch, in The Hague. Amalia von Solms commissioned the building of the palace in 1645. But it was after her husband, Frederick Henry's death in 1647, that she decided to dedicate the palace to him, and commissioned various major Catholic artists to paint the Orange Room, adorning it with paintings to glorify her late husband.
Everdingen moved back to Alkmaar in 1658, where he started a workshop and took on pupils. He died in 1678 and was buried in St. Laurenskerk in Alkmaar.
Today, you will find many of Everdingen's paintings displayed in private houses and museums in the Netherlands, with several on display at the Stedelijk Museum, Alkmaar. Here you will find a permanent collection of eleven paintings, celebrating Alkmaar's greatest painter, including 'Boy Holding an Apple' (1664), 'The Holy Family' (1655-1664) and two impressive militia works: 'Office and Stand-Bearers of the Old Civic Guard' (1657) and 'Portrait of a Dutch Commander' (1651).